What is Sales DNA?
John's revolutionary book – "What's Your Sales DNA?" – inspired the Sales DNA Profiles.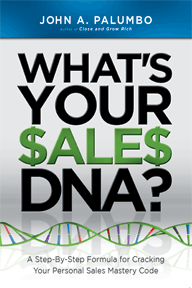 The book answers age old questions about why some salespeople seem born to thrive … while others seem born to do a nose-dive. Is the difference their luck? Their education? The training they received? Something they've learned to do with prospects?
If you think the most important difference between the top sales performer and everyone else is the ACTIONS the top performer takes … you're in for a shock! John's book reveals the surprising truth about what really makes for explosions in sales income.
Visit www.MySalesDna.com to learn more about this pioneering concept.
<![if !vml]>
<![endif]><![if !vml]>
<![endif]>
Read what industry leaders are saying about "What's Your Sales DNA?"
"Not only did the sales team love attending John's seminar – they have asked me to invite him to do an encore!"
- Gil Dezer, President, Trump Grande International
"A refreshing look at how salespeople sabotage their own success. John has hit on the key ideas that can take 'good' salespeople up to 'great' status."
- Melinda Brody, President, Melinda Brody & Company
"No matter how long you have been in any selling capacity, you can change your Sales DNA, improve your skills and improve the quality of your life – if you follow John's simple instructions."
- Jack Gallagher, American Home Mortgage
"Want to be a master closer? Read John Palumbo's book … and watch your conversion rates soar. It's that simple."
- Tom Richey, President, Richey Resources Inc.
"Who said there's nothing new in sales? Meet the real Palumbo! Begin by reading this book."
- Ty Boyd, Chairman, Ty Boyd Executive Learning Systems
"John's candid approach to sales is refreshing, forward thinking and jumps way out of the box. He gets it!"
- Ashley Christofferson-Cunningham, Author, "Marketing and Selling to Generation X"
"The definitive work on verifiable achievement. John's book gives empowering information that will help you along the path to success – and fulfillment."
- Myers Barnes, Myers Barnes Associates
"John Palumbo has truly cracked the code of what it takes to be a Sales Master … a must read for all salespeople who want to go from good to great. I am recommending that my clients get the book and start reprogramming their mental iPods immediately!"
- Meredith Oliver, E-marketing Diva, Meredith Communications and CreatingWow.com